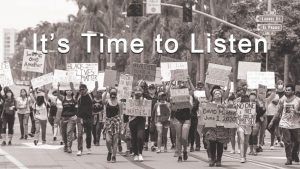 By Pastor Rhodes Woolly
The last week of May was a particularly trying, frustrating, grief-laden week. As we worried over reentering public space in the midst of the pandemic, we encountered horrifying images of another African-American killed at the hands of hate and fear. It begs the question, "Why, O Lord, why?"
When the people of Israel asked that question, God sent prophets to proclaim a message most were not willing to hear. In all cases, the message began with this word: "Listen."
In this age of sound bites, bumper sticker campaigns, and twitter statements limited to 280 characters, we've become obsessed with hearing ourselves talk at the expense of listening to others. Really listening.
When I look in the mirror, I have to raise my own hand. This past week, for example, I found myself obsessed with what I needed to say related to the killings.
Until God placed on my heart the word shared with the prophets: "Listen." And it struck me that perhaps it's time I stop agonizing over what I need to say and, instead, make room for the voices of others, especially our black and brown brothers and sisters.
I believe it's time for the church to enter into a time of deep listening. Let's listen to each other, especially to those whose voices aren't often heard. Let's listen to the vulnerable, the oppressed, and those without privilege. Let's listen, without spending time trying to form a response or seek a flaw in their argument. Let's just listen, praying that God might bring to us a nugget of truth and clarity along the way.
It's time to listen. For the next few months, I'd like to invite you into a Zoom call where we'll listen to voices that often aren't heard. Together we'll listen to the rather short, 5-15 minute talks about one thing or another, and then spend time asking the question, "What did I learn?"
For those who worry about things like this, I assure you there's no political agenda here. I'm not at all interested in promoting one party/candidate/platform over another, although some will think so without even joining in. Our goal is to provide space for minority voices who dare to speak about core ethics of our faith: mercy, justice, peace, wholeness, love.
Interested? Then join us Wednesday evenings, beginning June 10 between 8-9 pm. Will we be challenged? I hope so. Will we learn and grow? I hope so. Will it make a difference in our lives and in this world? One never knows … but I'm pretty sure we'll never answer that question without listening.
I know I need it. I hope you'll join me on this important journey.
The zoom link will be available each week via FaithLife or contact the church office.