Helping Others When It's Hard to Help: Community Agencies Continue to Need Assistance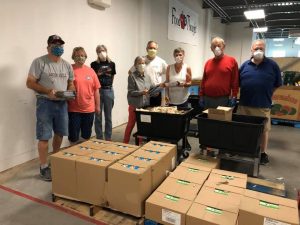 By Susan Shinn Turner
Even though the governor's stay-at-home order remains, the need for volunteers at Rowan Helping Ministries goes on.
"We're seeing a decline in volunteers," says Betsy Warner, volunteer manager. "We've really narrowed down our volunteer opportunities to focus on our four core areas to keep things going."
While clients continue to request food, there's been a decline in folks coming in for meals as well, Betsy notes. "We're barely able to get by. We have had people who have stepped up who are willing to serve. We really appreciate that."
Betsy says that RHM serves three meals a day, every day — even on holidays.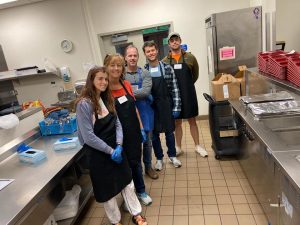 Rhodes and Krista Woolly and their children, Carter, Matt, and Anna Grace, served a meal on Easter Sunday, for example.
"It was a great experience to do this together," Krista says. "We are celebrating the blessings that go along with being at home together. Serving on Easter Sunday was one of those blessings. Also, the shelter is really following the guidelines and so it didn't really stress us out at all. RHM needs the volunteers now more than ever."
Willi Beilfuss agrees. He and his wife, Donna, are part of a group of 11 St. John's members who volunteer at RHM the second Wednesday of every month in packing meals for Food for Thought (above). They recently volunteered on April 8.
"The group felt we had made a commitment and felt there were needs that needed to be met," he says.
The group is one of several groups from St. John's who volunteers at RHM with Food for Thought. They have rotated recently between packing for Food for Thought and packing groceries for families.
"They gave us masks and gloves, and all the surfaces were sanitized," Willis says, "so we were good."