The Luthergarten Tree in Bloom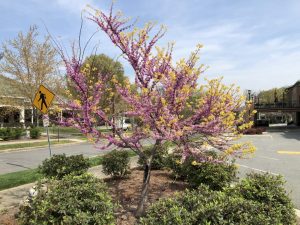 By Susan Shinn Turner
When Pastor Carl Sachtleben and his wife, Ann, visited Wittenberg, Germany last fall, they were sure to check on the tree that St. John's members planted in the Luthergarten in 2014.
The St. John's tree is a Common Medlar (Mespilus germanica) that grows 17 to 20 feet in height.
Started in 2009, the Luthergarten ("Luther Garden") was constructed in observance of the 500th anniversary of the 1517 Reformation that led to the formation of a Lutheran church. Some 500 trees were planted from congregations and denominations all over the world.
Congregations were also invited to plant a tree on their own property, which St. John's members did in April 2016. The redbud tree, which is growing nicely, is situated across from St. John's kindergarten at the Jackson Street entrance.
The tree in Germany is also doing well, Carl notes. The Sachtlebens were in Germany for two weeks so that Carl could serve as a visiting pastor at the Wittenberg English Ministry. The ministry provides worship services in English for tourists from all over the world. Services take place at the three churches in town: the Castle Church, the Town Church, and the Chapel.
Carl led four devotional services a week and a service of the word on Saturday. The Wittenberg English Ministry was founded in 1996. Carl has participated four times during his career.
"It's a joy to preach there," he says. "It's a great experience, especially for a Lutheran pastor."