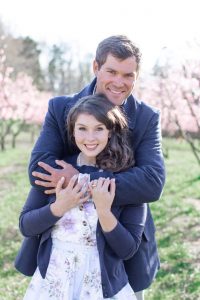 By Susan Shinn Turner
When Alyssa Smith and Phillip Harris got engaged in August 2018, they had no idea their April 25 wedding would be affected by a global pandemic.
"We didn't plan on a 2019 wedding because my brother is in the Air Force and stationed in a location he wasn't allowed to leave," Alyssa says. In the meantime, her father had a stroke in 2017 and she wanted to give him plenty of time to recover so that he could walk her down the aisle. They settled on April 25, 2020 as their date. 20 months down the road.
When they attended a wedding on Feb. 29, 2020, friends told them, "You're next!"
But by mid-March, everything had changed. And that's an understatement.
Alyssa, who is executive director of Healthy Rowan, could tell early on that the pandemic was serious. When she was told to begin working from home, "I realized that this was going to be serious for a long time." That's when she called Pastor Rhodes for advice.
Philip and Alyssa had been meeting with Pastor Rhodes for several months. Although they had been attending the 9:27 service since early 2019, they were eager to join the church together as a couple. Now they wondered if they'd even be able to get married.
Original plans were to have a "big wedding" at the Lady Bird Farm in Rockwell, with six attendants, flower girls, a ring bearer and 135 people in attendance. It was their dream wedding, especially for Philip, who "always wanted an outdoor wedding," Alyssa said. No surprise, since he works at Harris Landscaping in Concord.
"Then Pastor Rhodes suggested a simple wedding in the sanctuary, with just us and our parents present. It was hard to wrap our heads around it at first, but we soon fell in love with the idea."
"We'll have a party later, when all of this is over. But we wanted to get married. We wanted to take the next step. And I couldn't think of a more beautiful day."
"It might sound odd," says Pastor Rhodes, "but watching Alyssa walk down the aisle in an empty sanctuary was one of the most touching wedding moments I've ever experienced. Philip was waiting at the altar, tears running down his cheeks. Once she arrived and her father stood from his wheelchair to give her a kiss, well, I wasn't sure I'd be able to start the service. It was beautiful."
The pandemic has brought lots of changes. Every now and then, a change in plans works out for the best.