Anna Grace Woolly Funds Water Fountain Refill Stations at Salisbury High School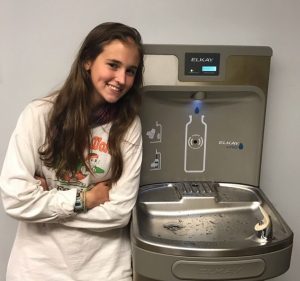 By Susan Shinn Turner
Anna Grace Woolly has had an exciting senior year. She's traveled throughout Europe, to Africa, and drove cross-country with her brothers. Last month, she received the coveted Chancellor's Scholarship, a full scholarship at Appalachian State, beginning this fall. And she wrote a successful grant to have six water fountain refill stations installed at Salisbury High School.
"I just wanted to be involved with something," Anna Grace says. "I am passionate about a lot of things, and safe water is one of them."
The grant aligns with Anna Grace's interests of environmental conservation and sustainable development. The daughter of Rhodes and Krista Woolly, she also has interests in anthropology and social justice. The grant combines providing students with safe water, supports hydration, and decreases use of plastic water bottles.
She wrote the $5,000 grant in February 2019, and the Robertson Family Foundation awarded it in May 2019. The water fountains were installed in mid-September.
She worked with SHS Principal Luke Brown — also a St. John's member — to ascertain the school's finances as part of the grant writing process. Carie Fugle, her Environmental Club advisor, also played a supportive role.
"The water refill stations are a beautiful gift from Anna Grace," Carie wrote to the SHS community. "Last year, she took it upon herself to write a grant for these water refill stations for our campus. We are now the proud host to six water fountains for all of us to use. If you see Anna Grace, tell her thank you and what an inspiration she is to others.
"These water refill stations will allow us to become more sustainable, decrease our ecological footprint, reduce plastic waste, and change habits. Please celebrate these new fountains with us!"
Anna Grace hopes other students will follow her lead.
"It's not super difficult to apply for a grant," she says. "There are organizations that want to help and contribute to the community. It seems like a daunting task, but you can do it."
Grant writing includes pulling together financial information, writing an essay, and making sure all the materials are submitted on time, Anna Grace says. "It was a good precursor for college applications in the fall."
"Not only was it a substantive issue, it was a strong application," wrote the Robertson Family Foundation committee. "We were impressed that a student showed that kind of initiative, thoughtfulness and creativity, and we were proud to support it."
At Salisbury High, Anna Grace has been a member of the soccer, golf, cross country, and swim teams. She is a member of the Environmental Club, the Key Club, National Honor Society, and Sheroes, a female empowerment club. Away from school, she enjoys traveling, hanging out with friends, and watching "Survivor."