Men's Beach Retreat, May 29-31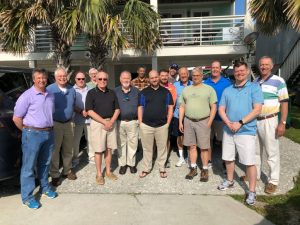 By Susan Shinn Turner
The Men's Beach Retreat at the Lutheran Retreat Center at Isle of Palms in May sounds like SO MUCH FUN.
The men will gather May 29-31 for the eighth consecutive year. Registration is now open and brochures are available in the tract racks.
The weekend follows a leisurely agenda. The men go out to eat together on Friday night, after which Aaron Shafer will start things off with some fun activities. Pastor Rhodes leads a Bible study on Saturday morning. The afternoon is free for golfing, biking, walking on the beach, or a chartered salt water fishing outing. There will be a Low Country boil on Saturday evening, and then the men will attend church as a group before heading home on Sunday.
Aaron and Mark Ritchie are part of the team that cooks meals. Rest assured, the meals are a highlight of the weekend, loaded with good food and fellowship.
Aaron has attended the retreat every year. "We all come from different backgrounds and generations. We're all able to come in with different life experiences and opportunities to learn from our peers and everyone else. Everyone who has gone has really enjoyed it."
"It's just a great opportunity for the guys to spend some time together away from church," says Gary Rhodes, one of the organizers. "I have really gotten to know people I would never have known otherwise."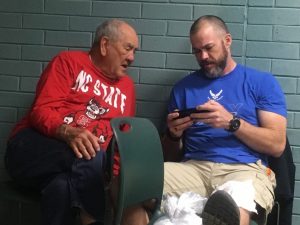 In the past, the retreat has been limited to between 20-25 participants. But with a new location, we can take as many as 40 men. This year's venue is the Coastal Retreat Center on the Isle of Palms, a hotel-like facility and conference center managed by the SC Lutheran Synod.
"Hopefully we can expand the group," Gary says. "It would be great to fill the whole place if we can. We pack in a really good Bible study and fellowship over the weekend. It's a lot of fun and a lot of fellowship."
"It's one of the highlights of my year," Pastor Rhodes says, "and the fact that we're near Charleston makes it all the better."
"Don't make an excuse not to go," Aaron adds. "Since we plan so far out, it gives all of us an opportunity to open up that weekend. "
Register online or by completing one of the brochures found in the track racks. 
---