Danny Hines Named New Minister for Adult Discipleship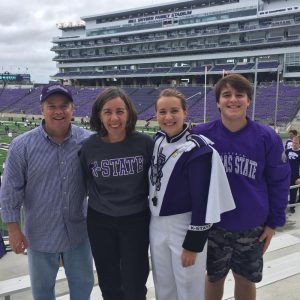 By Susan Shinn Turner
Danny Hines is the newest member of St. John's staff. His first day as minister for adult discipleship was Oct. 14.
Danny and his parents moved from Fayetteville to Salisbury when he was in eighth grade and the family joined St. John's. After he and his wife, Rosalind, were married, the couple spent his career in the construction materials industry, mostly in the Midwest.
"We've traveled a lot," Danny says. "Rosalind had a desire to get back home. We wanted to be with our parents. Rosalind has moved with me for almost 30 years now. We felt like it was a good time to come back."
They returned to Salisbury a year ago. The Hines have two children, Madison, a senior at Kansas State University, and Noah, a junior at East Rowan High School.
Danny was working, he says, but it wasn't a job he felt called to. He had been a member of the discipleship committee since returning to St. John's, and Pastor Laura approached him about the minister for adult discipleship position. After discussions with Pastor Laura and Pastor Rhodes, they spoke with the Personnel Committee. Danny started his new role a week later.
"This was a calling for me for awhile," he says. "I was appreciative of the opportunity. Adult discipleship is about bringing people together in a lot of different ways, and I can't wait to see what unfolds."
He adds, "Along the way, we will be asking, 'What do you want?', 'What are you looking for?' 'What can we do to help?'"
A big challenge for adult discipleship, Danny says, is time. So it's going to be an experiment, he says, to determine when and where works best.
"As we grow as disciples, we want to grow the church at the same time. We want to help people build their Christian faith and deal with issues on a day-to-day basis. This is exciting work."