Jane Britt builds "The Empty Tomb"
By Susan Shinn Turner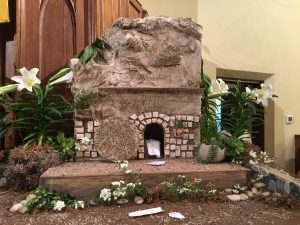 "Why do you seek the living among the dead? He is not here but has risen." Luke 24:5-6
The empty tomb was brought to life this Easter season by the St. John's decorating committee. It becomes the latest addition to our growing collection of three dimensional art used in worship.
At Christmas, the stunning Boehm nativity scene is on display, donated by Fran Hoke. The large, intricately detailed figures bring to life the Christmas story, always receiving lots of oohs and ahhs along the way. Last year, another nativity set was given to St. John's, this one by the Tippie Miller estate. The unique, 3' tall brass figures have quickly become a favorite addition.
And at Thanksgiving, an enormous cornucopia takes center stage, celebrating the abundance of God's creation.
This year, a detailed depiction of the empty tomb occupies the same spot, just beneath the pulpit in the Sanctuary.
"Large space needs large visuals," says Pastor Rhodes. "The architect for our sanctuary understood the power of the visual arts in telling the story, which is why St. John's is so visually engaging. Anytime we add to the visual display, we're very sensitive and intentional. This newest addition is a perfect example. It's incredible."
To get things going, Jane Britt asked her brother, Jim Goodman, to make a table portable, sturdy, and large enough to fit around the base of the pulpit to hold the nativity and cornucopia.
While taking the nativity display down after Christmas, Jane started working on her idea for an Easter display.
Jane laid out all the components of the tomb on a Ping Pong table in her basement. She started with an L-shaped wood box, built by her brother, Jim. She then began using papier-mâché to build it up. She wrinkled the paper to make it look like stone. She fashioned the giant stone that was rolled away from a Styrofoam circle. She sprayed the whole thing with textured paint in colors of sand and gray, then rubbed antiquing paste on it to make it rough looking. She then took small tiles and broke them apart and placed them about the front of the tomb. Jane modeled the tomb after the garden tomb on display in Jerusalem.
"We knew it was hewn out of rock and we knew it was a new tomb," she says. Joseph of Arimathea was a wealthy man. "I wanted it to look as close to an authentic as possible."
She added gravel, and the committee used Easter lilies and fresh flowers — all white — for Easter Sunday.
Jane made a lot of papier-mâché creations during her 37 years as a teacher and school librarian, including an 8-foot Cape Hatteras lighthouse — complete with light — and a 5-foot Triceratops that went with her to every library. She served at Isenberg, Knollwood and Southeast.
"It was something on her heart," Sandy Jordan, chair of the decorating committee, says of Jane's efforts, "and it was something she wanted to do. She knew it would be so meaningful for worship and it has been."
Others on the decorating committee are Beth Boger, Carol Hair, Ann Hatchett, Linda Phillips, Scott Rhodes, and Cheryl van der Poel.