Middle and High School Summer Programming
By Susan Shinn Turner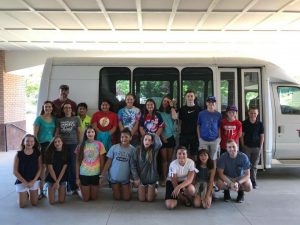 It's a busy summer planned for youth ministry, and Kai Thurow, youth minister, is ready to roll.
Well, just about.
"This is when I switch into summer mode," Kai says of the month of May.
Here's a look at what's going on at St. John's this summer for youth group members who are rising middle to high school students.
VBS — June 17-21 in the St. John's Faith Center, led by Stacey Shafer, children's minister. Many of our youth will be volunteers.
Campfirmation — June 23-29 at Lutheridge. Pastors Rhodes and Laura are taking 16 seventh- and eighth-graders to Lutheridge for a week of the Kairos confirmation program.
"This year, we are making a transition," Kai explains. "Usually confirmation students go between their eighth- and ninth-grade year, but we've heard so many students say, 'That was a lot more fun than I thought it would be. I wish I could go again.' So now campfirmation is required for rising eighth-graders and optional for rising ninth-graders."
Last year, for the first time, the pastors took advantage of the Kairos confirmation program rather than setting up programming within their own confirmation cluster. 125 Kairos campers enjoy confirmation study, skits, professional musicians from around the country, and a high energy concert.
The program has become so popular that there are now two confirmation weeks at Lutheridge.
Hands and Feet Camp — July 8-11 at St. John's. The high school volunteers lead our annual camp for 3rd-5th graders. It includes two service projects each day at local non-profit organizations.
WOW ("Win Our World") — July 14-19, is a servant camp for middle-schoolers in Knoxville, Tenn. Kai and Ashlee Dangerfield are taking 13 kids.
Nashville — July 21-27 is our mission trip for high school students in Nashville, Tenn. Kai and Pastor Laura are taking 26 kids. Kristin May, Aaron Shafer, Tabitha Myers and Carole Parrott will serve as chaperones.
The students will have just a little bit of a breather before returning to Rowan-Salisbury Schools on Aug. 7.
As they say on all the infomercials, but wait, that's not all!
The 6th grade milestone, "Surviving Middle School as a Child of God," is on July 28, and a ninth-grade milestone, "Surviving High School as a Child of God" is on July 29.
And don't forget, there are lots of different camp weeks available at Camp Agape, Lutheridge and Lutherock. You can visit agapekurebeach.org and novusway.org for details.
No doubt there are lots of logistics to be taken care of.
"The goal is to make sure our kids are safe as they are having transformational life experiences," Kai says.
That includes such pre-work as risk assessment and the logistics of transportation, meals, housing, service projects and more. Then there's communicating with families and youth, too, Kai says.
"There's a huge pay-off in seeing these kids have these experiences. If it wasn't for that, I wouldn't be doing this every single year. The idea that families are willing to put the lives of their children in our hands for a week is a big responsibility. And it does weigh on me every single day of an event. But knowing families entrust us with their children means a lot. We want them to get the best experience they can while being safe."