49 Days of Gratitude Continues Until March 30
By Susan Shinn Turner
The 49 Days of Gratitude celebration is rolling on.
The event, which runs through March 30, kicked off Feb. 9 with a parade and opening ceremony in Spencer. A variety of events and activities are slated for March, including two events at St. John's.
St. John's hosted an art crawl, which took place Feb. 15 in Peeler Hall. The artwork will remain on display through the end of this month.
St. John's will also host The Phoenix Readers in a presentation on March 15 at 7:30 pm in the Faith Center.
The Phoenix Readers is a volunteer readers' theater company of local people ages 55 and up. Part of the St. Thomas Players at Center for Faith and the Arts, the group of a dozen readers is led by Dr. Jim Epperson, Catawba College professor emeritus of theatre arts. The group performs at libraries, senior centers, and other local venues. Phoenix Readers participating in "The Great War" include Mike Cline, Katie Davis, Ray Davies, Karl Hales, and Lori VanWallendael, with Epperson as director.
According to the CFA Web site, readers theatre has been often called "theatre of the mind," a medium in which performers conjure a rich, sensory experience for the audience. The acting style is a fusion of acting and reading, and the scripts are created from a variety of literature: plays, novels, short stories, letters, songs, and poems. The performance is primarily stationary, with readers seated on stools, chairs, or boxes and scripts held in their hands or placed on lecterns. Physical movement is mostly suggested; scenery and costumes are only selectively implied.
"The Great War" was first performed in 2018 at Rowan Public Library, when Gretchen Witt had a WWI display sent by the state of North Carolina. Last year marked the 100th anniversary of the end of World War I.
"Gretchen Witt asked us if we could do something on World War I," Epperson says. "It's kind of been mushrooming from there."
The group also performed recently for the St. John's Senior Seasons Academy.
Epperson put the script together based on writings from two library books, "Only Remembered," edited by Michael Morpurgo, and "50 Things You Should Know About the First World War," by Jim Eldridge.
Following the performance, the "Women of Faith" — Patsy Parnell, Diane Goodnight, and Diane Freeman, accompanied by pianist Kay Peeler, will sing several hits made popular during World War II.
The St. John's art display is a combination of several smaller groupings: military portraits by North Rowan High School students; mandalas by an artist, Elizabeth Cole, from CFA; collages by RCCC students and Trinity Oaks residents; and a collection of photos of World War II military equipment by a resident of Trinity Oaks.
The 49 Days of Gratitude has been inspired by the 70th anniversary of the Merci Train. Following World War II in 1949, the French people sent boxcars of gifts after the U.S. sent an American Friendship Train filled with relief supplies two years earlier. The boxcar that came to Raleigh has long been part of the N.C. Transportation Museum, the group that's served as the project's home base.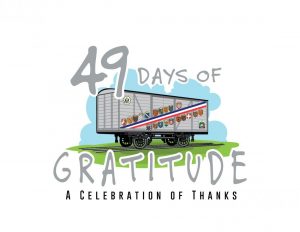 St. John's members Sherry Mason Brown and Kimberly Lentz have been instrumental in developing the plans for the 49 Days of Gratitude.
The idea had its genesis two years ago, when Anna Everhart, now a sophomore at North Rowan High School, painted the Merci car as part of the Fresh Artists project. Anna served as junior marshal at last month's parade.
Four donation boxes are located at St. John's in Peeler Hall. The sponsors and charities for each box include: Darryl and Barbara Jo Corriher, Smart Start Rowan; Sherry Mason Brown, Barnabas Connection; Rhodes and Krista Woolly, Engage North Rowan; Kimberly Lentz, Henderson School. Wish lists are located with the boxes and online.
Additionally, St. John's is serving as a major sponsor for the Butterfly Project, another offshoot of the gratitude project. Students at Knox Middle School will paint the ceramic butterflies to be used in permanent art installations throughout the county. Middle schools throughout the county are participating. Each butterfly commemorates a child lost in the Holocaust, and the Butterfly Project promotes world peace.
For more information about the 49 Days of Gratitude, visit www.49daysofgratitude.com.