Special Music and Meditation Services: Mondays in Lent
By Rosemary Kinard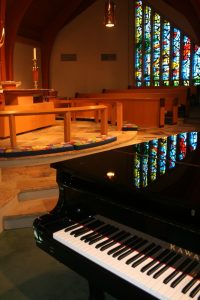 You are cordially invited to join Pastors Rhodes Woolly and Laura Henrik along with area musicians for brief services of Music and Meditation during the lunch hour on three consecutive Mondays during this Lenten Season. They will be held in the St. John's Chapel at 200 West Innes Street in downtown Salisbury, on Mondays, March 11, 18, and 25, from 12:15-12:45 pm.
The services will include prayer and meditation, led by the St. John's Pastors, and special music by Davis Brown, Piano (March 11); Aleksandr (Sacha) Witt, Trombone, (March 18); and Rosemary Kinard, Flute and Rob Durocher, Piano (March 25)
Davis Brown is the keyboardist for contemporary worship at St. John's. He has been a composer and classically trained pianist for 40 years. His Symphony No. 1 was premiered by the Salisbury Symphony Orchestra at the Reformation concert at St. John's in 2017. By day, Dr. Brown is a professor of international relations.
Aleksandr (Sacha) Witt teaches at Catawba College and serves on the music faculty at Rowan-Cabarrus Community College. He is an active performer in the area, involved in chamber and orchestral music. He is currently the Bass Trombonist for the Western Piedmont Symphony and the Piedmont Wind Symphony. He holds degrees in music from Western Carolina University and the University of Maryland, College Park. A member of St. John's since he was 4 years old, he serves on the contemporary worship team, sings in the Chancel Choir, and plays for the 11 am Worship. He and his wife Ondria are the parents of two children.
Rosemary Kinard, raised in Alabama and Florida, is Associate Parish Musician at St. John's, having retired in 2007 as Professor Emeritus after twenty years as Head of the Choral Program at Catawba College. She was the founder of the St. John's Men's chorus in 1994, and served as the musical director until her retirement in 2017. She has degrees from Asbury College and Appalachian State University, is a singer, flutist, and keyboardist, accompanying the Chancel Choir, and directing various ensembles, including the St. John's Flute Ensemble and the Trinity Singers.
Rob Durocher is Minister of Music and commissioned Deacon at St. John's. He administers the music program of numerous choirs and ensembles and oversees the worship and music leadership for 8:30 am, 9:27 Contemporary Worship and 11 am Worship and coordinates the Arts at St. John's. He is an organist, keyboardist and composer, and is active in the North Carolina Synod of the ELCA where he serves on the Candidacy Committee. Born in Texas and raised in New Jersey, he came to St. John's in 1998, after having served churches in Gastonia and Ramsey, NJ.
Please invite your friends to join us for these brief but meaningful services of music and meditation at mid-day in the St. John's Chapel.