Dive Deeply into God's Word in Sunday School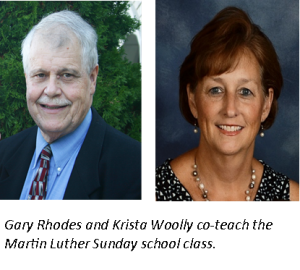 By Susan Shinn Turner
Each Sunday morning, two adult Sunday School classes dive deeply into God's word. Dr. Gary Freeze leads the Miller Class, while Krista Woolly and Gary Rhodes share teaching duties for the Martin Luther class. Diane Everhart and Lorna Reasor serve as planners and staff liaisons for this class.
A core group of 20 members of the Miller class has been participating for about 15 to 20 years, Freeze says. He led a Reformation studies series for the 2017 Sunday School year, and is teaching Genesis this year. Freeze has taught the class for about eight years, and brings a unique perspective.
"I bring the skills of a cultural historian to ask the question, 'What does history have to offer people of faith?' and 'What does history do to encourage and challenge faith?" he says. "We have just begun our study of Genesis. We're a month into it, and we're still on chapter 1. We take our time, and we proceed as we learn. Genesis could last throughout this Sunday School year, but by the end, I suspect we will have studied Exodus and Deuteronomy briefly."
"Gary is so interesting," says Jim Boger, a Miller Class participant, "and he has all sides of the stories. He is great. The lesson is not always about what you think it's going to be about. He always brings up different perspectives you may not think about."
Freeze says he doesn't feel qualified to teach the New Testament, but instead concentrates on the Pentateuch, the first five books of the Bible.
Along with teaching at St. John's, Freeze has been a history professor at Catawba College for 25 years.
"Teaching this class has challenged me to understand my faith better," he says. "I enjoy promoting Biblical literacy. It has taken me to a point in my faith where I am unassailed. My cup runneth over."
About 15 folks regularly attend the Martin Luther Class, Reasor says. She and Everhart keep the class schedule and send cards to members when needed. Previous teachers have included Rich Soderberg and the late Bob Preushner.
"It's a very good support system," Reasor notes. "We've known each other — most of us — for quite some time."
Woolly has co-taught with Rhodes for several years. She and her husband, Pastor Rhodes Woolly, have been invited to the Martin Luther class Christmas party since arriving at St. John's almost 10 years ago. Pastor Rhodes noticed the rapport she had with the group, and asked her to teach.
"It's really not teaching," Woolly explains. "It's facilitating. They're so inspiring to me. They have so much insight. They surprise me every week."
The pastor also invited Rhodes to co-teach.
"It's been very rewarding to me, and Krista does a great job as well."
The two instructors have chosen a variety of video series, including one from Adam Hamilton, the senior pastor of the country's largest Methodist church, and a terrific teacher, Rhodes says. "The class members participate well and seem to enjoy it."
Within the Hamilton series, the class has studied Moses, Mary and Joseph, and the crucifixion, Rhodes says. "He goes to places in the Holy Land where these events took place, and while he's teaching he's also on site."
In mid-October, the class started a series called "The Way," which begins with Jesus and John the Baptist, and ends with the crucifixion."