Wednesday, October 24, 2018
|
History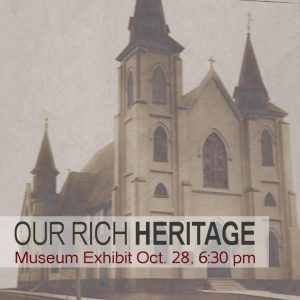 By Pastor Rhodes Woolly
In September 1768, John Lewis Beard faced a dilemma. His beloved daughter had died and, as was customary in these early colonial days, laid to rest in a grave on his property in the township of Salisbury. But Salisbury was growing, and there was great concern that this hallowed ground might be disturbed by the march of civilization.
The dilemma led to a decision to deed the land to the local, building-less Lutheran congregation, so named "the Evangelical Lutheran Congregation in the township of Salisbury" (from Martha Agner's mammoth history of St. John's, volume 1).
Trustees of the church included Michael Brown, Michael More, Caspar Guenther, and Peter Reeb, who we may as well distinguish as the first members of the St. John's Congregation Council.
Others dated the organization of these Salisbury Lutherans to 1747. Some preferred the date 1749. It's hard to tell, to be honest, although it's clear that Lutherans had been gathering for worship and fellowship in this Salisbury area since they began to arrive in the late 1740s. But September 9, 1768, was a watermark date: when land was given to finally erect a "Meeting House for the proper use of the said German Lutheran congregation forever."
Interestingly, the same deed grants use of the Meeting House to "the High Church of England" (later to be known as the Episcopalians) and to "the Reformed Calvin ministers," later to be known as the Presbyterians.
This Reformation Sunday, October 28, we will commemorate the 250th anniversary of this land deed, which led to building the first sanctuary in Salisbury.
You'll be interested to know that there's more to the story.
Sure, the grief of parents over the death of their daughter was real. But the 1760s were loaded with politics and positioning and threat of war. The French and Indians, the British, a King's mandate, the proprietors of present-day Salisbury, and even a young man named Daniel Boone all had something to do with this land deed. But what?
Dr. Gary Freeze will unpack the story behind the story on Sunday evening, Oct. 28, beginning at 6:30 pm in the Faith Center.
We'll also be unveiling a 5 minute video that will become the first digital exhibit in the much-anticipated St. John's Museum. On display will be the original deed from 1768, a Bible used by these early Lutherans, and other artifacts of the era.
It's true that the grief of two parents led to the formation of St. John's Lutheran Church. Join us on Oct. 28 for "the rest of the story."