Consider a Gift to the Dar al-Kalima Building Campaign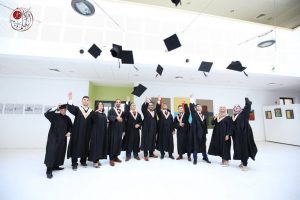 By Susan Shinn Turner
During October, members of St. John's will have the opportunity to raise money for Dar al-Kalima University College of Arts and Culture in Bethlehem.
Dr. Mitri Raheb, former pastor of Christmas Lutheran Church in Bethlehem, founded this institution (see accompanying note from Mitri). He and Christmas Lutheran are longstanding mission partners with St. John's. In 2017, the university completed its Library and Multimedia Resource Center, but had a shortfall of $180,000.
St. John's has set a fundraising goal of $5,000 during this month, with another $5,000 in matching grants.
Michael Connor, who leads the congregation's Palestine Ministry, is also leading this fundraising effort. Michael has visited the Holy Land three times, including serving as a ecumenical accompanist through the World Council of Churches for three months in spring 2017. He and his wife, B.J., will return to Palestine for 10 days in January as tour leaders for Bright Stars of Bethlehem, which raises funds for the university here in the U.S. In 2020, they'll spend three months volunteering at a guest house in the Old City of Jerusalem.
During the past several years, St. John's has hosted three events in conjunction with the university: the Room for Hope culinary event in September 2015, the Palestinian art show later that year, and the Palestinian Unlimited photography exhibit in March 2018. In addition, St. John's is also a host site for the annual simulcast from Christmas Lutheran Church and the National Cathedral in Washington, DC.
"We've had a longstanding relationship with the university and with Mitri," Michael notes.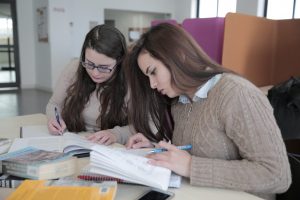 During this month's congregational retreat at Lutheridge, Michael hopes to show a brief promotional video about the effort. Pastor Rhodes will also add his encouragement. Also this month, look for bulletin inserts and Faith+Life Moment presentations from Michael and from Betty Brown.
"The university encourages free thinking," Michael says, "and it allows individuals to invest in the future leaders of Palestine. The other aspect of this project is the opportunity for student exchanges, forums, and conferences."
In his endeavors, Michael has had support from Mitch Siegel, who is Jewish. Mitch is a member of the Chancel Choir and the Men's Chorus.
Mitch explains, "Judaism looks upon Dar al-Kalima's plight in two ways. First, when it comes to charity, Jews are compelled to offer charity (to be viewed as a gift) as long as one is able. This is viewed as a deed of loving kindness, a righteous act or, a 'mitzvah.' Many modern Jews would see that by helping Dar al-Kalima, they would be decreasing the influence of Hezbollah in the West Bank.
"The second view Judaism would be what is termed Tikun Olam (the healing of the world). This is based on the concept that the Messiah cannot come into a world where chaos rules and unconditional love is lacking. Reformed Judaism views Messiahship in this way: Each of us caries a spark of the Messiah. When humanity truly comes together then the healing of the world can take place. Thus, a contribution toward this monumental task is always welcomed."
---
A Note From the Rev. Dr. Mitri Raheb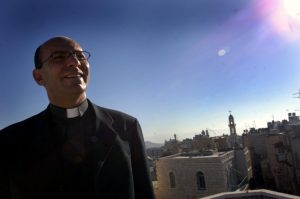 Dear sisters and brothers at St. John's,
Greetings from the little town of Bethlehem.
Dar al-Kalima University College of Arts and Culture (DAK) is the first and only Lutheran college in the entire Middle East among 350 million Arab and Muslim people. DAK is the first and only university in Palestine with a focus on art and culture.
The Library and Multimedia Resource Center was a requirement by the accrediting ministry of higher education. Any university that gives bachelor's degrees has to have a library. Otherwise, it will lose its accreditation and will function as a community college only. This innovative library houses not only over 25,000 books and media titles in Arabic and English from primarily American authors and film makers, but serves as a center for students, community forums and academic research excellence between the people of the United States and Palestine.
The library creates free access to information while giving equal access to men and women in promoting gender equality. This also supports and informs citizens — that is key for a strong, civil, and inclusive society. The library has an archive for Palestinian art, which is the first of its kind in Palestine. This will help maintain the Palestinian cultural heritage in general and Palestinian Christian heritage in particular.
The building is a statement of hope and resilience in a very difficult situation.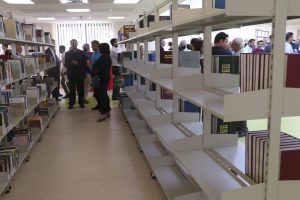 Our relationship with St. John's started many years ago. I was able to visit and speak at the church several times, and we were thrilled to host a group from St. John's here in Bethlehem as well. This partnership in Christ is something that we cherish, and it enables us as Lutherans to reach out to the larger community educating the next generation of creative leaders for Palestine.
Our vision statement is from John 10:10, that we might have life and have it abundantly.
I would like to take this opportunity to thank each and every person at St. John's for your prayers, support, and partnership. We need those especially at times like this.
Blessings,
Mitri
Dr. Mitri Raheb is president of Dar al-Kalima University College of Arts and Culture in Bethlehem and former pastor of Christmas Lutheran Church in Bethlehem.