Stacey Shafer Joins Staff as Children's Minister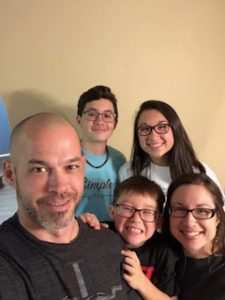 By Susan Shinn Turner
When Stacey Shafer learned the position of Children's Minister was open, the idea to apply kept coming to her mind — and she kept pushing it away. But during VBS, a friend suggested she apply. Then her daughter suggested it. Then her husband suggested it.
Finally, she says, "I stopped pushing it away and God took it from there."
Stacey became Children's Minister on Sept. 12 — a fitting day as that was the first day of Wednesday programming. In her role of serving children ages birth to fifth grade, Stacey will be working with the Kingdom Kids (for children ages 3 through second grade) and EPIC groups (for children in grades 3-5) that meet on Wednesdays.
Stacey has a first-hand knowledge of the youth programs at St. John's. She and her husband, Aaron, are the parents of three children: Grace, a sophomore at Gray Stone Day School; Grant, an eighth-grader at Erwin Middle School; and Gabriel, a first-grader at Granite Quarry Elementary School.
A graduate of North Rowan High School with an associate's degree from Rowan-Cabarrus Community College, Stacey is the daughter of Jeff Nelson and stepdaughter of Janice Nelson, and her grandmother is Pat Nelson. She has been a member of St. John's for 18 years, and she and Aaron have been married for 16 years.
When Stacey was considering applying for the job, Aaron pointed out that she loved being at church — and that she's there a lot, which is true. Besides volunteering for Kingdom Kids, she has been a nursery coordinator, VBS volunteer, Sunday School organizer and teacher, and children's worship coordinator for the 9:27 service. In addition, she and her dear friend Ashlee Dangerfield are longtime leaders of children's programming at the Lutheridge congregational retreat. The two will again serve in that capacity the first weekend in October. Stacey will also assist Scott and Davey Rhodes with the Splash program for St. John's youngest members.
A year ago, Stacey started working two days a week — down from full-time — as registrar at Levine Cancer Institute in Concord. As of this fall, she's a six-year breast cancer survivor.
"It's fulfilling work," Stacey says. "I feel like I have a real purpose there. So the children's minister position works well with my other job. And the fact that it works around my kids' schedule is good."
Besides working with Kingdom Kids and EPIC, Stacey will lead the children's Milestone program and  assist with VBS. She's been training with Kai Thurow, youth minister, and will report to Pastor Laura Henrik, pastor for discipleship.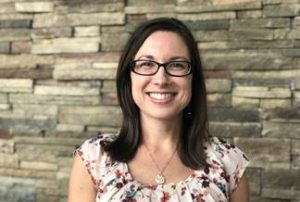 "I'm really excited to see some of the new ideas from Stacey for Children's Ministry," Kai says. "She brings a lot of energy, excitement, a fresh set of eyes, and great ideas to our Children's Ministry at St. John's. Her love for God is contagious, too, so that's fun to be around!"
Pastor Laura adds, "Stacey brings a new level of excitement, vision, and faithfulness to our children's ministry program. Her love of children, this church, and God made her an excellent candidate for this position. She is eager to jump in and think creatively about our children's ministry and how to take it to the next level. We feel blessed that God led her to this position and can't wait to see her in full force!"
"I'm blessed to be part of a staff that I've long admired," Stacey says.
For her part, she wants to continue to grow children's ministry, and grow the involvement of families and volunteers. She wants to get "back to basics" in teaching Bible stories, and strengthening the rotational Sunday School model.
"I want families to be active together in our congregation," she notes.
Besides spending time with her family, Stacey enjoys running with Ashlee four mornings a week — super early! Together the two log about 20 miles a week. She also enjoys scrapbooking and reading.