Wednesday Meals Are Back Sept. 12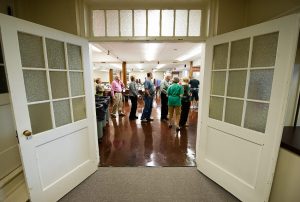 By Susan Shinn Turner
My husband and I were having dinner with my son, Andrew Poe, the other night, when out of nowhere he said, "Gosh! Wednesday meals are starting soon. I can't wait!"
A lot of St. John's folks are thinking the same thing.
Wednesday meals return Sept. 12. Often called "the best-kept secret in town" by Pastor Rhodes, the meals are $4 for adults, $3 for youth grades 6-12, and $1 for elementary students and younger. Also, according to organizer Celia Jarrett, you can purchase a season pass of 23 meals for the 2018-19 year, and receive two free meals.
"That makes it so easy," she notes.
And easy is the name of the game for Wednesday meals, especially for families with young children.
"With two young kids, Davin and I love the ease of Wednesday nights at St. John's," Pastor Laura says. "We don't have to meal plan, prep, or clean up. Plus, we get to meet many different members that span across all three services. It is a great fellowship event!"
"It's just our Wednesday routine," says Lauren Stephenson, a volunteer for Kingdom Kids children's programming, which her sons Jeffrey and Emmett both attend. Husband  Brad joins them for dinner.  (Read more about Wednesday Children's Ministry programming on page 4.)
"I get really sad every time it's ending, because it's my favorite night of the week," Lauren says. "We get a hot, delicious home-cooked meal that's better than I can cook. We know the meal schedule so our whole family knows what to expect, and everybody likes everything. It's just kind of perfect for parents."
Lauren and others also praise Carol Hair, who leads activities with children after the meals conclude, giving parents the opportunity to linger and visit a little longer.
"There's people I don't see all summer long, and I miss those people," Celia says of the Wednesday evening fellowship. "It's an opportunity to be with people you don't get to see on Sundays or any other time."
She adds, "Ott Pinkston has developed an established menu, and people have certain meals that they really like."
Holly Zemke and her husband, Gary, attend the meals to spend time with son and daughter-in-law, Cory and Jennifer Gebhardt, and their daughters, Katherine and Sadie. The Zemkes moved to Salisbury a little over a year ago to be near their family.
"It's a way for us to see Cory and Jennifer," Holly says. "They're always going to be there because they have a season pass, and we're going to get one this year, too."
She adds, "It's a way to not only see their group of young people and their children, but it is a way for Gary and me to meet other people and see where we can plug in at St. John's. It's a great social time and the food is wonderful!"
Lynn Leonard also loves sharing a meal with her family, which includes daughter and son-in-law Kelly and Ben Goodman and their children, Sam and Anna Kate.
"We know how great the food will be because Kelly and Ben live next door to the Pinkstons," Lynn says. "We have enjoyed lots of meals at their home, and they are all delicious. Ben helps Ott at the church when he can, and he is also a great cook, so the food is outstanding. It is also a great way to enjoy fellowship in a busy week and catch up on the happenings at St. John's."
"We can always use more hands, especially at clean-up," Celia notes. That's certainly another way to get to know folks.
If you go, please be sure to say hi to Andrew, who will be sitting with his MaMaw, Cora Shinn.
What's on the Menu in September?
Sept. 12—Meatloaf, mashed potatoes and gravy, vegetable medley, cucumbers and onions, roll and dessert
Sept. 19—Chicken Tetrazzini, green beans, Caesar salad, Texas toast and dessert
Sept. 26—Lasagna, crunchy romaine salad, Texas toast and dessert