Sign Up NOW for the Churchwide Retreat!
You are the light of the world
You are the light of the world
So shine, shine, shine where you are
You are the light of the world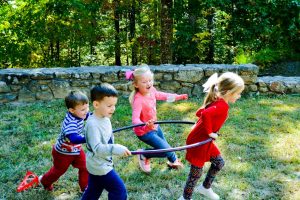 By Susan Shinn Turner
Just like the good ol' camp song says, this year's theme for the Churchwide Retreat at Lutheridge is "Light."
"We hope that people will recognize themselves as the light of Christ, and move that light back to Salisbury, to be light in our community," says Michael DeNise, who chairs the retreat planning committee.
This year's retreat is set for Oct. 5-7. Registration is available online, and the deadline is Sept. 9.
The churchwide retreats — in which St. John's has the use of the entire camp — began in 2009, when Pastor Rhodes joined the St. John's staff. They've continued mostly on a bi-annual basis, although a retreat did not take place in 2017 because of the Reformation anniversary, Michael notes.
This year's retreat will include a focus on St. John's global mission partners: Guatemala, Palestine, South Sudan, and Rwanda. Lubo and Ngor from South Sudan and Hernan and Elvia from Guatemala will be on hand for the weekend. Michael hopes to be able to  FaceTime Carter Woolly, who will be serving in Rwanda.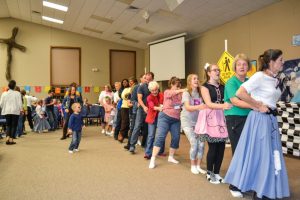 Activities surrounding these four mission partners will take place Friday evening during the ministry fair, and they'll also be incorporated as part of the Saturday morning Bible study, led by Pastors Rhodes and Laura.
The weekend will follow its traditional format, with vespers both evenings and concluding worship on Sunday morning. This year's service project features a rock painting project in the Faith Center on Saturday afternoon. The event follows the "kindness rocks" or "traveling rocks" trend of placing rocks in public places for people to find. But Michael says that folks can paint these rocks of encouragement to share with friends who may need them — another way of sharing light in the community once they return home.
Saturday afternoon free time offerings include canoeing at lake side, a hike nearby, area tourism opportunities, and a tour of the St. John's Tent Village. Completed in time for the 2018 summer season, the village is the first and only camp area named for a congregation.
Michael won't yet reveal the entertainment for Saturday evening, but does promise that a good time will be had by all. Other Saturday evening activities include a campfire, songs and board games at Efird Hall.
Kai Thurow and other advisers will lead the youth in their own slate of events for the weekend. The high school youth group will be housed in Beam Cottage, and middle-schoolers with their families.
"Every year, our high-school youth do a lock-in during October," Kai says. "This year, our hope is for the retreat to act as the lock-in. The weekend will be full of fun, games, relaxation, time for homework if needed, and some time with God and friends. Even if you have a home football game that Friday night, that's OK, you can still come! We'll have the church bus available to provide a ride up late Friday evening, and bring you back on Sunday afternoon."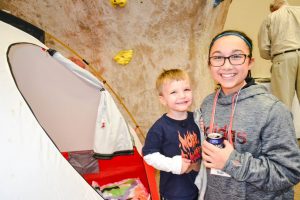 Ashlee Dangerfield and Stacey Shafer will lead activities for elementary-aged students during the Saturday morning Bible study. There is also a nursery available during this time.
Cost for the weekend is $75 for adults; $50 for middle school and high school youth; $25 for children pre-K to fifth grade; and free for children 3 and under.
In addition to Michael, Kai, Ashlee and Stacey, members of the retreat planning committee include Barbara Jo Corriher, Celia Jarrett, Doug and Donna Groce, Cyndii Owen, and Pastor Rhodes.
We look forward to seeing you on the mountain!