"Pray for Our Schools" is Set for Aug. 20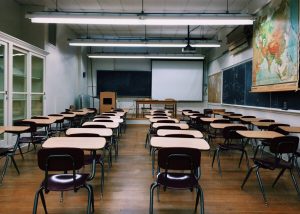 By Susan Shinn Turner
Our annual "Pray for Our Schools" event is set for 6:30 pm Monday, Aug. 20, in the Faith Center. All students, parents, educators, and anyone with a child or grandchild going back to school are invited.
"This is a time and space to pray for our students and teachers, for a new school year, and for our school system as a whole," says Pastor Laura Henrik.
The event will include prayers and music. Special guests will include speakers from the school system, Meredith Williams, Principal at North Rowan High School, and Tonya Brinegar German, Principal at East Rowan High School.
"Pray for Our Schools is not just for teachers and students," Henrik says. "It's for all of our families who are preparing for the hustle and bustle of a new school year."
Sharon Agee is part of the GIFT team, which includes Lauren Stephenson, Carol Brown, Scott Rhodes and Sally Taylor.
"We want to offer prayers for a successful school year," says Agee, a retired educator. "We have four principals who are St. John's members: Luke Brown at Salisbury High School, Meredith Williams at North Rowan, Maria Lowder at North Hills Christian School, and Tonya Brinegar German at East Rowan. We are sending personal invitations to all of our educators. We will also have a small, take-home gift for our educators' remembrance of the occasion."
The prayer service will take place the week before school starts on Aug. 27.
Two other prayer services hosted by GIFT Ministry will include a prayer service in November for those who have experienced loss and a prayer service in March for those affected by cancer.
---
According to rssed.org, each year, Rowan County-Salisbury Schools impact the lives of 19,000 students and 3,000 teachers, and students spend an average of 1260 hours at school in one year, not counting extra curricular activities, time riding the bus, or before and after school lets out.
Teachers put in countless hours to help our children succeed in learning and developing, purchase most of the items in their classroom out of their own pockets, and help keep our children safe and healthy while at school. For some students in our own community, the only food, attention, and healthcare they receive is provided at school.
Each day, our children and teens' lives are touched by teachers, administrators, lunch aides, maintenance staff, counselors, coaches, and volunteers. No doubt their lives are touched by the students as well. The fact of the matter is during school hours may be the only chance to experience the love of Jesus for students and staff alike.
A sign behind the desk of Melissa Rhyne, St. John's member and kindergarten teacher at North Rowan Elementary School, puts it this way, "God doesn't have to be in my curriculum to be in my classroom. After all if He is in me, He is in everything I do… and I never have to say His name."