The St. John's Tent Village is Under Way: Thanks for Your Support!
By Susan Shinn Turner
St. John's has exceeded its goal of raising $50,000 for the St. John's Tent Village at Lutheridge.
The campaign ran from Feb. 4 to March 4. Pastor Rhodes eagerly awaited the final amount that Monday morning, March 5.
"I just shook my head with amazement when Ruth Ann read me the numbers," he reports. "'What's the verdict?' I asked, knowing that our goal was to collect $29,000 by March 4. She laughed and replied, 'As of the March 4 offering, we've collected $29,269.'
"Isn't that incredible? This congregation is so very generous. Thank you!"
As of this writing, the total now stands at $58,000.
Not only has St. John's raised the money for the Tent Village, a dedicated group of men has been helping build it. And neither rain nor mud nor wind nor ice kept a determined group of St. John's men from working on the platform tents in February.
"In October, six of us went to clear the property," says Gary Taylor, Men's Ministry president. "The week of Feb. 26, we went back up."
Led by Steve Jarrett, who served as site superintendent, the latest group included Mike Agee, Larry Breitwieser, Larry Cesario, Mike Edwards, Freddie Eller, Ben Goodman, Dennis Ingold, Dennis Rogers, Gary Taylor, and Pastor Rhodes.
The conditions were, at best, challenging.
"We lost about a day and a half due to weather," Gary says. "We had a good day of work on Monday, but ice on the windshield as we went to the work site on Tuesday morning. On Tuesday and Wednesday, we worked in the rain and mud. We had to stop and cover up our equipment several times because of extreme rain on both days. There was a high-wind advisory Thursday afternoon into Friday morning, so we only worked about four hours on Thursday. We lost power Friday morning but we had a generator. We had wind gusts of 35 to 40 miles an hour. It was absolutely unreal. The conditions were unfavorable, to say the least. It was wet. We dropped hammers and boards. You have to know when to call it because of safety."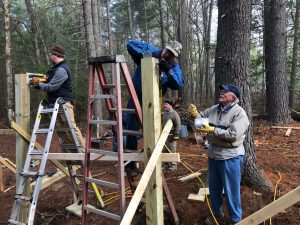 Of the four platforms to be built, one is nearly complete, and one — the one the men worked on— is in progress. Gary says it takes about a week to build one platform. A church from Winston-Salem has been up twice to help build. The other two platforms will be completed by summer 2019.
Despite the weather, the men persevered. They were housed at Bacot Lodge, and Lutheridge provided food for breakfast and lunch. They went out to eat in the evenings.
"The fact that this Village will have our congregation's name on it, it's even more special that we could put groups together to go up there and do the construction," Gary says.
Incidentally, the guys razzed Mike, whose drone crashed into the trees the first day. But Mike ended up with some great photos.
Another group of 10 men will return to Lutheridge May 21-23 to make up for the days lost due to weather.
Many thanks to all these hard-working guys … and to everyone who contributed to the project!