St. John's Men's Beach Retreat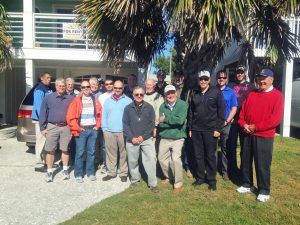 By Susan Shinn Turner
For the sixth year, the St. John's Men are beach bound. Their annual retreat is slated for April 20-22 at Kure Beach. This year, however, the men are changing locations as they've maxed out space at the two duplexes where they previously stayed, according to Gary Rhodes, who heads up the trip.
"With the duplex we had for the past five years, we reached capacity last year," Gary says, "so we decided to see if Agape Retreat Center was available."
It was.
"We're encouraging as many men who are interested to join us," Gary says, noting that the upgraded accommodations can host up to 32. The retreat center has been recently refurbished and, with its spacious kitchen and gathering areas, is perfect for groups.
The retreat is a weekend devoted to fellowship, Gary says. Pastor Rhodes leads a Saturday morning Bible study, and a Saturday evening discussion session has included such diverse topics as the church's Bethlehem Ministry and the Prison Ministry. Last year, the men raised $2,000 to help fund a summer feeding project for Food For Thought.
It's a weekend devoted to fun. There's a golf outing, fishing, biking, and well, a chance to just relax.
It's a weekend devoted to food. The men go out to eat on Friday evening, then enjoy a low-country shrimp boil on Saturday evening. Full breakfasts and sandwich lunches round out the weekend.
The men will worship on Sunday morning at Kure Beach Lutheran Church before leaving for home.
Cost for the weekend is $125, plus $16 for linen rental. Register at the church office by the end of March. Please contact Gary Rhodes with any questions at garycrhodes@yahoo.com.