"We have A Lot More in Common Than We Have Differences": Lutheran-Catholic Dialogue
By Susan Shinn Turner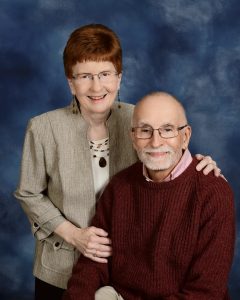 Nearly 100 members from St. John's and Sacred Heart Catholic Church attended each of three sessions during the recent Lutheran-Catholic Dialogue.
The effort saw gatherings at both congregations. The first session included the history of Christianity in Rowan County by Dr. Gary Freeze, followed by Pastor Rhodes and Father John Eckert sharing the history of their respective congregations. The second session included a panel discussion by religion professors from Belmont Abby and Lenoir-Rhyne, and the third session was a vespers service and reception hosted at Sacred Heart.
"Parishioners at Sacred Heart really appreciated the dialogue," says Father Eckert. "They were excited to welcome St. John's members into our church. They were so excited to pray together. I am so appreciative of Pastor Woolly reaching out in the first place. If something is important, you have to take time to make it happen. I appreciate the friendships that have developed."
Pastor Rhodes agrees.
"There's something profoundly interesting about celebrating the 500th anniversary of the Reformation in a Catholic church. Although, as it turns out, our worship together was officially in the 501st year [it occurred on January 9, 2018]. In that sense, I suppose, we're beginning the next 500 years with a taste of unity on our lips. That's beautiful, isn't it?"
"One of the most meaningful things to come from our Lutheran Catholic Dialogue was the opportunity to worship together with our Sacred Heart brothers and sisters," says Rob Durocher, the St. John's Minister of Music. "Planning this service with Flora Lester, musician at Sacred Heart, gave us both the opportunity to lift up the integrity and beauty of our two traditions. This was not the conclusion of dialogue but an invitation for more!"
Roger Hull, a member of St. John's, thinks the series was important. "To me, the whole idea of the Reformation was of
these so-called Lutherans reforming things in the Catholic church. So in a sense, we're reformed Catholics."
Roger continues: "Any time churches can get together and find points of agreement and work together is very important. There's enough animosity between churches as it is."
His wife, Linda, agrees. "We need to listen to one another. There were a lot of similarities in the service at Sacred Heart. There's a lot more we have in common than we do not have in common."
"I thought it was very valuable to get to know people," says Mary Goodman, a member of Sacred Heart. "Pastor Rhodes and Father John led it so beautifully. They were so warm and set a wonderful, comfortable stage. You could tell they enjoyed each other. The conversation with Dr. Freeze was extremely fascinating. It was very interesting, especially since I am not from this area."
She adds, "By the third session, people were getting to know one another, and extremely comfortable with each other. The vespers was a nice way to end. We have a lot more in common than we have differences."
Father John is open to future collaborations.
"I hope we can continue to come together, to pray together, and have good social time together," he says. "I want to continue to get together with Rhodes and talk. We can come together to combat mutual challenges."