St. John's Men Begin Work on Lutheridge Tent Village
By Susan Shinn Turner
Thanks to some hardworking members, the St. John's Tent Village at Lutheridge is on its way to becoming a reality. In September, six men from St. John's went to Arden to begin clearing land for the tent village.
"Now they have asked if we'd be interested in construction," says Gary Taylor, who leads the Men's Ministry. "We said we could put together a group and return in late February."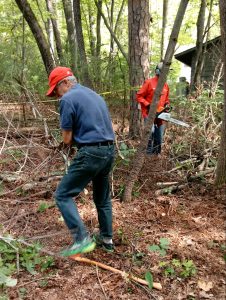 During their overnight trip in September, the men cleared the property for what will become the first area at Lutheridge named for a congregation, Gary says. "We'd never worked so hard in our lives!"
The next step: building platforms for tents.
"It's basically gonna be like a cabin on stilts," Gary explains.
Pastor Rhodes and Ben Goodman plan to join the original six men from the first trip. That group included Gary, Steve Jarrett, Mike Agee, Mike Edwards, Freddie Eller and Larry Cesario.
"We would like to have a group of 10 or 12 men," Gary notes. "We use Lutheridge a lot as a congregation, so it's only right that we give back."
If you'd like to join Gary and the group for the trip later this month, please contact him at 704-639-9701 or gstaylor@carolina.rr.com. Accommodations and meals will be provided by the camp.