St. John's Tent Village Campaign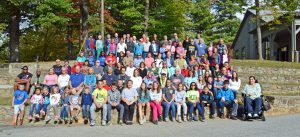 By Susan Shinn Turner
As approved by the Congregation Council in 2015, St. John's is now in the final phase of fully funding the St. John's Tent Village at Lutheridge, the first new camper area in a generation. The village will be elevated and tucked into the woods between Wilderness and Pioneer B, serving as the home base for adventure-based campers.
The $50,000 campaign seeks to build four elevated platform tents that each hold up to 10 campers. Any contributions beyond $50,000 will be used to refurbish the lakeside restrooms/showers, which will be used by the St. John's Tent Village campers. A future project will be to construct a shower house at the tent village.
This marks the first time at Lutheridge that an entire area has been named for a church, although many cabins throughout camp have been named for congregations and individuals over the years. In the Fall, a men's group from St. John's helped to clear land for the project. They will return at the
end of February to construct two of the platforms. (See accompanying story on page 9).
Some $21,000 has already been collected in the silent phase of the campaign. Now, the public phase invites St. John's members to complete the $50,000 goal. This segment takes place during February, with results announced March 4.
On Feb. 11, a Lutheridge representative will provide a Temple Talk at all three services. On the other Sundays of February, members of the St. John's steering team will provide temple talks. Team members includes Dave Roof, Mike and Sharon Edwards, Harrison Parrott, Cora Shinn and Anna Grace Woolly. On Feb. 18 each member will receive a pledge card that we ask to be returned by Friday, March 2.
"The new St. John's Tent Village is a critically important part of the camp's growing adventure-based program," Pastor Rhodes says. "While most campers spend all week on-site, a growing number of camps are being offered for middle- and high school students who yearn for a bit more adventure. The Tent Village will be their home base at the beginning and end of the week, with the middle of the week spent hiking, rafting, spelunking, or rock climbing.
"The design of the tent village really caught our attention. Each of the four platforms will be elevated to look like a tree house. Heavy duty canvas tents will cover the sleeping area, with a small deck serving as the entrance. It is our hope that the remainder of the congregation will complete the campaign in time for this summer's camp."
Pastor Rhodes continues: "I hope you will consider making a contribution to support this much-needed addition to our much-loved camp. Lutheridge is a very special place loaded with very special memories. It's a place where kids are formed in their faith and where college-aged counselors
discern God's calling for their lives. It's where adults enjoy inspiring weekend retreats and pastors are trained in ministry. Quite honestly, I don't know what the church would do without Lutheridge."
Dave Roof agrees.
"I think it will be so much fun to be a staff member in that area," says Dave, a former Lutheridge counselor. "There's nothing quite like a tent. The tent village will have close proximity to the pool for showers and bathrooms. It'll be a great addition."