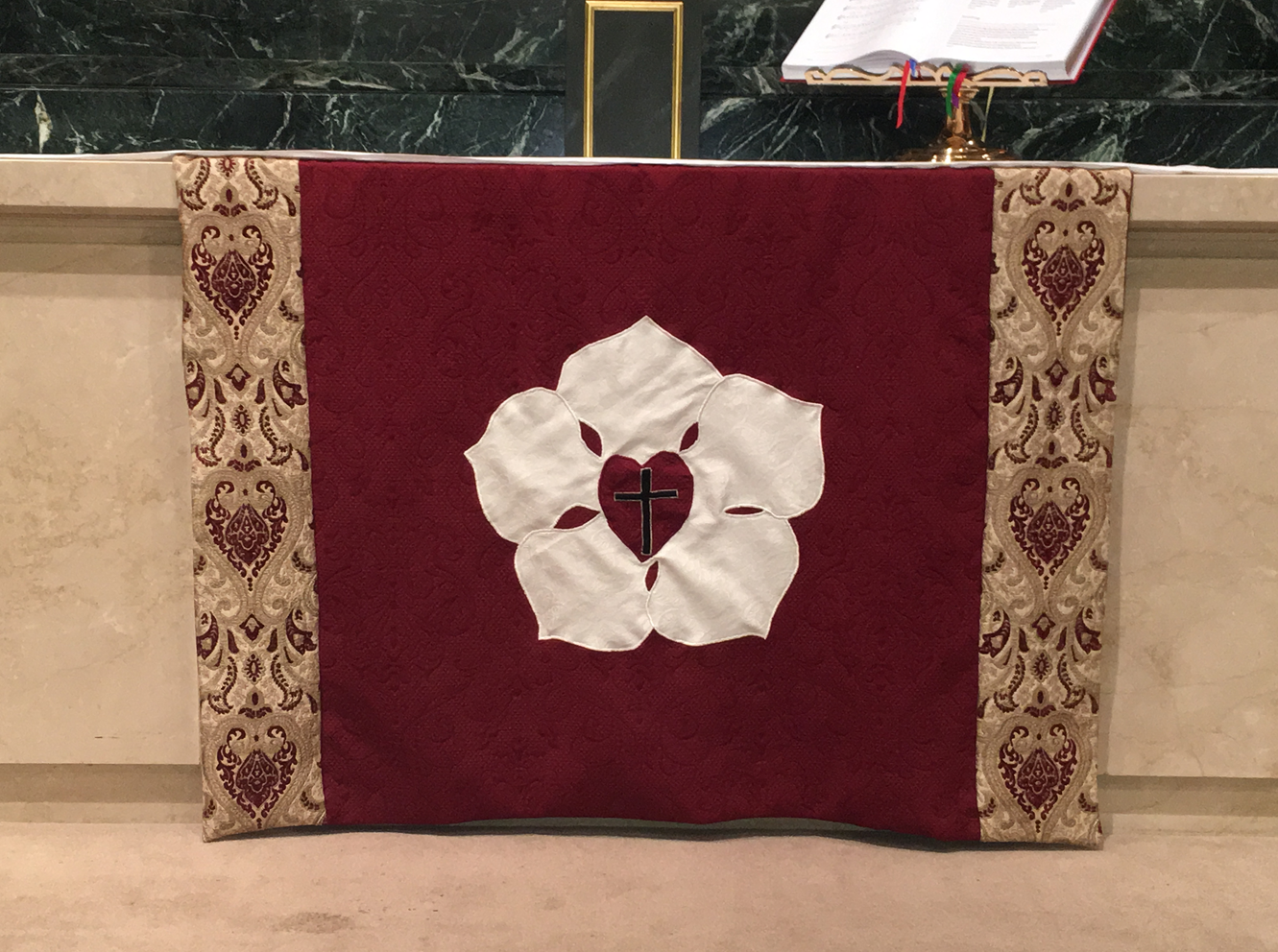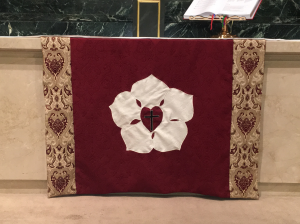 By Susan Shinn Turner
If you were at St. John's for the 11 am worship service on Reformation Sunday, you surely noticed the beautiful new paraments.
The burgundy and gold pieces were designed and made by Karen Rogers, a longtime interior designer and a member of the Chancel Choir. She's also on Congregation Council, and is a liaison to the worship board.
"When Pastor Rhodes came back from Germany, he had pictures of this church in Wittenberg that had these paraments," Karen says. "He wanted to know if someone could make similar paraments for our altar."
Karen said she'd try it. "It didn't look that difficult. I didn't want to do a full covering because I wanted some of the marble altar to show."
Karen spent a lot of time in the Sanctuary, sitting and contemplating, and studying the other banners that were there. She'd created the 250th anniversary banner in 1997, and Gretchen Witt recently fashioned the 1517 Reformation banner, so she wanted all of the décor to match.
"We were going for more of a medieval color than a bright red," Gretchen says. "The altar covering was inspired by the one made by the Queen of Denmark for the Castle Church in Wittenberg."
Karen drew out the design, and decided to place the main flower — similar to the Luther Rose — with a single petal on top, not two petals as in the Luther Rose design.
"Don't ask how many hours I spent on this, because I have no idea!" says Karen, who started her career when her oldest son, now 42, was born.
One Sunday, Karen happened to be sitting in the congregation with grandchildren, and decided if she was doing an altar piece, she should also make coordinating pieces for the pulpit and lectern.
"I came home and started drawing," she says, and quickly came up with designs using the same burgundy and gold fabrics.
Karen started the design process in June, and thought she'd have to be ready for the symphony concert in September. When she discovered the paraments wouldn't be used until Reformation Day, she says, "I sort of slowed down and took my time."
The altar covering is 52 inches wide and 38 inches long. All of the pieces are made of burgundy brocade with coordinating burgundy and gold brocade trim. The altar piece and parament for the pulpit both have a simplified version of the Luther Rose with a white rose, red heart center and black cross in the middle of the heart.
Karen says she's gotten wonderful feedback from the congregation. She says she'd love for the paraments to be used other Sundays than just Reformation Sunday.
"There may be occasions for which we use red paraments," Gretchen says. "For example, an ordination service would be appropriate, because the color of the day is red."
Karen and her husband, Dennis, also a Chancel Choir member, have had a busy fall, as both participated in the choir for "In God's Own Country" at the Meroney Theatre.
"We didn't miss a single performance," Karen says. "It was so fun. It was a really good, rewarding experience."
The same can be said of making the paraments.
"I'm happy I had the opportunity to be in the right place to say yes," she says.