St. John's New Church App Features Original Podcasts
Monday, December 18, 2017
|
Podcast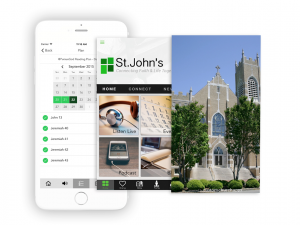 By Susan Shinn Turner
It's now easier than ever to connect with St. John's.
Bradley Chestnut, contemporary worship leader, has constructed a free app which includes podcasts and recent sermons. It also provides easy links to the St. John's Website (stjohns-salisbury.org). You can download the app from the App Store by searching St. John's Salisbury and opening the app with the contemporary green logo.
The app has three main tabs, "Home," "Connect," and "News." Under "Home" you can listen live to Sunday sermons, view upcoming events, contact the church office and listen to podcasts. Under "Connect" you can join a LifeGroup, learn how to join St. John's, and learn about Youth Ministry and Senior Ministry. Under "News" you can read about upcoming events and services.
The podcasts include archived sermons from the past two months. You can also listen to two podcast interviews by Pastor Rhodes: a conversation with Drs. Jimmie and Luanne Anderson about the recent MOM Dental Clinic, and a conversation with Michael Connor about his recent three-month assignment in Palestine.
"We're recording interesting stories," Bradley says. "When I saw Jimmie at contemporary worship practice one evening, he was ecstatic about the MOM Clinic in September, so we recorded a conversation about it."
The app, Bradley says, is yet another way to help members — and potential members — connect faith and life, whether or not they attend a weekly service. Although the app now refers back to the Web site quite a bit, it will eventually stand alone, Bradley explains.
"We just want to make St. John's and God's Word more accessible, especially to those members who are homebound."
If you have an idea for a podcast, contact Bradley Chestnut at bradley@stjohns-salisbury.org.
And don't forget to turn on your push notifications to have for important updates and reminders!