Called Meeting for Pastoral Candidate, Laura Henrik, Dec 3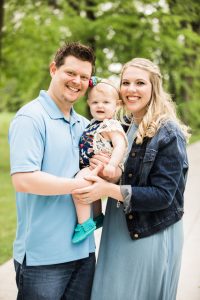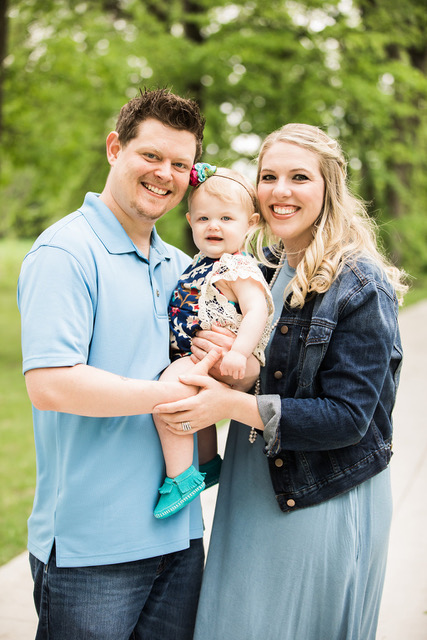 By Susan Shinn Turner
On December 3, the congregation will vote on whether to extend a call to the Rev. Laura Michelle Henrik as Pastor for Discipleship.
Since 2014, Pastor Henrik has been associate pastor at Lutheran Church of the Cross in West Fargo, North Dakota. She was previously pastor of social concerns and global missions at Trinity Lutheran Church, Moorehead, Minnesota, from 2012 to 2014, and served as vicar at Evangelical Lutheran Church of the Good Shepherd in Mount Holly from 2010 to 2011.
She is a 2012 graduate of Lutheran Theological Southern Seminary, and a 2007 graduate of Lenoir-Rhyne University. She and her husband, Davin, have a daughter Eliana, 18 months, and are expecting their second child in late March.
Pastor Henrik, Davin, and Eliana recently visited Salisbury so that she could interview with the Call Committee and Congregation Council. Call Committee members include Sharon Agee, B.J. Connor, Grace Faller, Cory Gebhart, Kelly Goodman, Dennis Ingold, Karen South Jones, Gary Rhodes and Mary Wymbs.
"We met Pastor Laura and her family during a casual drop-in" Dennis says. "She was very approachable and clearly very family-minded. That just made a good impression on me."
Dennis continues, "I asked her about her short-term and long-term goals. She sees herself as a part of St. John's ministry and wants to integrate into the community in any way she can. She did not indicate that she wanted to use St. John's as a stepping stone for future aspirations. I was very impressed with how comfortable she is to be around. She seems like the best fit for St. John's that you could possibly hope for.
"I'm glad she's young, and I'm glad she's a woman. Our members need to be able to go to our pastors for any circumstance or reason. I think it's good to have a male and female pastor available."
Dennis says that the Henriks are "looking forward to getting out of the cold weather and moving closer to family." Pastor Laura is a native of Knoxville, Tenn.
While in Salisbury, the Henriks joined Mary Wymbs and her family for dinner. Mary and her husband, Bryan, have two daughters, Millie and Cora.
"She's very genuine and she's very real," Mary says. "She has really good positive energy. She's super easy to be around and easy to talk to. A perfect complement to Pastor Rhodes." Mary continues, "She's very organized, and talked about how her current congregation has a huge confirmation class. To be successful with a large confirmation class, you have to be organized and have a lot of volunteers. She's just so bubbly and nice. She's excited about the possibility of coming to Salisbury, and I'm excited about the possibility of her coming to St. John's."
Pastor Henrik writes in her rostered minister profile, "The ministry setting that would energize me and make best use of my gifts is a relational ministry setting. I find joy in meeting with and being around people: whether it is visits to the hospital, pastoral care home visits, check-ins at the local coffee place, or watching a play or sports event with people within the congregation. I am passionate about building community and engage in the community that I am in as well as learning about the individual members and their lives. I thrive in a team ministry setting where creative ideas for new and innovative ministry are dreamed up and implemented."
The vote on whether to extend a call will be on Sunday, Dec. 3 at 10:30 am in the sanctuary.
---
More About Pastor Laura Henrik
▪ Pastor Henrik was born in Madison, WI, but her family moved to Knoxville, TN when she was six years old. She likes to think of herself as "a Southern girl with Packer roots."

▪ Pastor Henrik started her college career at the University of Tennessee, but in her sophomore year, she decided nursing was no longer the track that God was calling her to. She transferred to Lenoir-Rhyne and finished with a degree in Family Ministry.
▪ Her home congregation is St. John's Lutheran Church in Knoxville. While in college, she spent her summers working at St. John's as a youth intern with an urban mission camp our youth know well, WOW (Win our World). She says "During this time, I found how passionate I was about both social issues and building community. I got to see God working through teenagers, our homeless neighbors, faithful adults, and an outreach driven congregation. WOW was truly a blessing in my journey and a place of growth during my discernment process. "
▪ While at Lutheran Church of the Cross in West Fargo, ND, Pastor Laura helped out with the confirmation program of 150 + students, creative worship planning, women's ministry, and all the other parts of being a pastor at a large congregation.