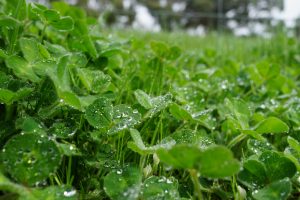 Dear friends,
Thank God for weeds.
The main thoroughfare into and away from our home is down a sidewalk that lies in the middle of our backyard, which these days is a lovely patch of, well, weeds. Clover mostly, but I'm sure Darrell Blackwelder would have a field day identifying the many other varieties we've allowed to take over the place.
It's a symbiotic relationship, to be honest. They have a nice place to grow and multiply and we have something that looks green. If you've got poor eyesight, it might look like green grass.
I'm sure there are solutions, some of which I might tackle next spring. But until then I've learned to say, "Thank you, God, for weeds."
For some reason these weeds remind me of a lovely lady and friend in Winchester, Virginia. Miss Ginny's picture is in my Bible next to the phrase "salt of the earth." Not really, but if you knew her you'd understand.
Ginny lived by herself in a trailer she had made her home for over thirty years. She had a heart of gold, always eager to help out "in the background," she'd call it. Within a few months of joining the church she jumped into all the tasks no one else liked to do — cleaning the kitchen, deep cleaning the restrooms, serving on altar guild, scrubbing communion wine and candle wax off of the chancel carpet, and helping out at the local homeless ministry whenever she possibly could. She cleaned houses most of her life, so doing hard, dirty work at church was just another way for Ginny to serve the Lord.
I once asked Ginny to be a communion assistant, specifically to serve wine. I was stunned at her response: "I could never do that, Pastor. Look at my hands." She held out hands that were big, strong, and admittedly rough around the edges. Callouses, fingernails that revealed the daily activities of a hard-working woman, the wear and tear of hands that would never have been chosen for a Palmolive commercial.
"Pastor, I would be embarrassed. The Lord deserves better than these old hands."
The irony was that I thought Ginny's hands were the most beautiful hands I had ever seen.
She held firm in her resistance, but from that moment onward, I paid close attention to those old hands. At communion, in particular, she would hold open those hands, so eager to receive the Body of Christ. On Maundy Thursday she would be the first to have her feet washed, so that she could then kneel and wash the feet of others. During the week, of course, she'd kneel that 75 year old body on the ground and clean up whatever dirt and grime the world threw at her.
Those were beautiful, life-giving hands.
Miss Ginny's death affected me more than most. She had no children and her extended family had mostly disappeared. Just writing these words transports me back to that one bedroom trailer decorated with frilly curtains and baby dolls. Holding her hand as she drifted off was profoundly sacred, when the veil between heaven and earth was lifted if but for a few blessed moments.
Dirty, old hands are like weeds, I guess. To some they're unsightly. Others might be embarrassed by them, or even ashamed.
But like Miss Ginny's hands, I've learned to thank God for weeds. They might not be perfect in the world's eyes, but they're perfectly beautiful in the eyes of God.
Thank you so much for your partnership in the Gospel.
Peace+
Pastor Rhodes