"In God's Own Country" Begins Oct. 12
By Susan Shinn Turner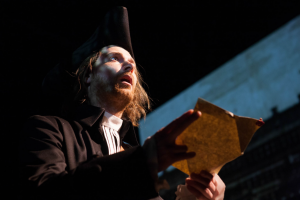 If you haven't gotten your tickets for "In God's Own Country," now is the time. The opening show for the Piedmont Players 2017-18 season is set for Oct. 12-15 and 18-21. Shows are 7:30 pm nightly, with a Sunday matinee at 2:30 pm on Oct. 15.
A reception will follow the opening night performance on Oct. 12.
The show tells the story of Lutheranism in America, focusing on the dramatic story of Henry Muhlenberg, considered the father of American Lutheranism. A German theater group, Landesbuhnen Sachse, will join actors on the PPT stage. Jane Brown Taubert, a Rowan County native, manages the company.
The show is an international collaboration among the two theater companies and St. John's. It is a featured part of the congregation's commemoration of the 500th anniversary of the Reformation.
Members of St. John's choral ensembles are joining members of the community to serve as the show's choir. They've been learning music in English and in German.
"It's not been easy, but it sure has been fun," says Rob Durocher, minister of music. "We're performing songs and chorales from the 1600s and 1700s. It's a mix of music, some of which is entirely original to the show."
If it sounds daunting, it is. "This has been one of the most complicated things we've done in our community. It's challenging, but it's also exciting. What a great way to commemorate this most important event in the life of the church."
"The music is really not hard at all, but it has been a challenge to learn the German for those of us who don't speak German," says Carol Everhart, Chancel Choir member. "
Freya (Rhodes and Krista Woolly's German exchange student) has come the last couple of weeks to help us with our pronunciation, and it has helped a lot."
The show's featured singers are a male quintet from Leipzig called Ensemble Nobiles. The singers will help lead worship Oct. 8 ahead of the show's premiere on Oct. 12. The group studied at Bach's own school and church, the famous St. Thomas Lutheran Church in Leipzig.
"They have a longstanding tradition of excellence," Rob notes (See article on page 13).
In addition to helping with the play, St. John's has been busy arranging housing for our out-of-town guests. 14 German performers will be in Salisbury for 18 days.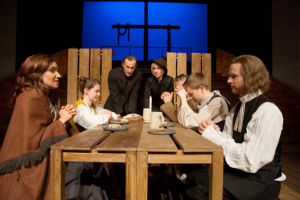 Nine of the performers will be staying with folks who live in the cottages at Trinity Oaks. Trinity Oaks is graciously providing breakfast and transportation to the Meroney every morning.
"It's a great way to welcome the wider community into this event," says Pastor Rhodes. "As usual, Trinity Oaks has bent over backwards to partner with us. Bill Johnson was quick to arrange cottages, always asking 'How else can we help?' I love their eagerness to be connected to the Salisbury community."
Tickets still remain for all performances, says Cam Hall, box office manager, but seats are going quickly for the Sunday matinee.
Tickets are $25 each plus tax, or $20 each plus tax for groups of 20 or more.
To purchase your tickets, please call the PPT box office at 704-633-5471 or visit the Piedmont Players website
Piedmontplayers.com