Volunteers Needed for Gator Reading Club: Begins in October
By Susan Shinn Turner
The Gator Reading Club is gearing up for October, and Karen Puckett has about 15 slots to fill.
Karen, media specialist at Isenberg Elementary School, explains that volunteers meet with third-graders who are not reading at grade level, a key indicator of future academic and social success. Tutoring takes place 12:15-1 pm on a weekday of the tutor's choice.
"Gator Reading Club is part of our Poverty Initiative," says Pastor Rhodes. "Since reading at grade level in 3rd grade is so intimately connected to that student's future success, our goal is to make sure every third grader in Rowan County can read at grade level. It only makes sense. Once perfected, this Isenberg project is something we want to replicate throughout the county, inviting other congregations to do the same with their neighboring schools."
Tutors spend the first 20 to 25 minutes of the sessions timing a child reading a passage aloud in order to measure the student's fluency. Then, they ask two questions during to measure a student's reading comprehension. For the last 20 minutes of the session, the tutor serves as a reading buddy by listening to the child read aloud, correcting any errors along the way.
In the three years that St. John's has been involved in the reading program, students have shown big growth in their third-grade reading tests.
But beyond the test scores, Karen says, "The kids love it. They feel honored to be a part of it."
"My students truly enjoyed meeting with their tutors and looked forward to it every week," says Tasha Key, third-grade chair. "The tutors were wonderful about making contact with me if they were going to be out, and the students were disappointed if their tutor couldn't make it.
"A lot of the tutors went the extra mile to get to know their students on a personal level, and that meant a lot to the students. They even purchased them books at the book fair, donated materials to our class, and taught lessons to our entire grade level on a few occasions.
"Overall, the experience was terrific. The tutors were reliable and supportive and we were lucky to have them."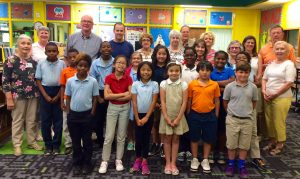 "Every one of the kids in the program grew in the area of reading," Principal Marvin Moore says. "This year, we will track attendance to see if it's better on the days students have tutoring. When they know somebody's coming to work with them, they come to school. They look forward to it."
The program also benefits the students' "soft skills," says Mr. Moore. "They develop a relationship with people outside their age range. When you have kids in poverty, they don't circulate in a large group and it's hard for them to develop trust in others. This program helps our at-risk kids build confidence and develop trust in society."
"We appreciate everything that St. John's is planning with us and for us. I think it's great for people to see what's happening in our schools. Come out and see!"
The school will host a get-acquainted session and provide training for tutors.
If you'd like to participate in the Gator Reading Program, please contact the church office or speak directly to Karen Puckett at 704-798-6834 or email karen.puckett@rss.k12.nc.us.