Bob Melton Keeps on Teaching
By Susan Shinn Turner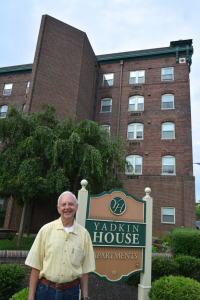 For 40 years — half his life — Bob Melton has taught Sunday School once a month at Yadkin House.
On a recent summer morning, Bob chuckles over a cup of coffee as he considers his long tenure. "It just kinda slipped up on me. You know how things like that happen."
In 1968, Bob and his family moved to Salisbury, where Bob helped install a new cable television system. At the time, his wife, Sandy, was Methodist and he was Baptist. "For a year, we visited, trying to find the church that fit. My son had a playmate whose family went to St. John's, and he told us, 'I want to go to St. John's, because they have live animals.'"
Sure enough, it seems one of the pastors had used a lamb in a children's sermon, and it made an impression on the young boy. So he and his parents went.
"It fit," Bob says. "We felt like we were giving and getting."
Bob and Sandy joined the Brooks Sunday School class, and one morning, the call went out for associate teachers. Sandy raised her hand.
"Bob'll do it," she said.
"I stated as an associate teacher with Bob Loeblein, and a number of other good teachers," Bob remembers. "It felt right."
During the early 1970s, Bob served on the church council. "The Christian education committee needed a Sunday School teacher for Yadkin House," he says, "and they gave me the job of finding a replacement. I sat around and didn't find anyone until the Sunday came, and I went. That was in 1977."
Bob teaches the fourth Sunday of each month. "This year, I'll pass my 500th lesson. I've always had a questioning faith. Each Sunday I taught, I took notes. I've gathered up the snippets of insights I've gained over the years."
The result is, "Once Upon a Human Journey: Observations on Faith and Life." Bob hopes to publish it one day for his family.
"This is the selfish part," he says, thumbing through the binder. "This is what it's done for me."
Bob has found an unusual group at the Yadkin House. "Some come from economic underprivilege and some don't. It's such a melting pot."
These days, seven in a class is a "large crowd."
"The last Sunday I taught, we had two ladies visiting with their dad, because he didn't want to miss," Bob notes.
Bob utilizes a variety of materials in putting his monthly lessons together. "I get a lot of material out of the Student Bible. You can take side notes and build on them. I've used the Augsburg series. Usually, I'll start preparing a lesson and something will hit me."
Disciple classes and other courses he's taken at St. John's have informed his teaching, he says. "I don't like teaching. I like leading. I do try hard to promote discussion, and try not to stay away from hard stuff I can't even answer."
Bob thought about resigning at Christmas. Nobody was showing up. But the residents asked him not to, and he thought about the Bible verse from Matt. 18:20, "For where two or three are gathered in my name, I am there among them." Attendance picked up.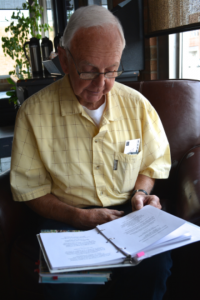 He hasn't missed many classes, he says. "Since it's just once a month, you can arrange your schedule around it, and I do that. This ministry says a lot about St. John's. I wouldn't be here without the support of St. John's."
"Bob's long commitment to ministry at the Yadkin House has been incredible. It's a ministry of compassion and faithfulness that has made a big, big difference to residents there," Pastor Rhodes says.
Every fourth Sunday, Bob drops Sandy off for the 9:27 service, then goes to Yadkin House, where he teaches for about 30 minutes. "I throw out a subject or question, and see if somebody bites. Sometimes we get into a discussion and we run over. Sometimes there are awkward silences and we run short. I want it to be as natural as possible. I just want it to be a conversation about faith."
Teaching the class, Bob says, has strengthened his faith. "Sometimes I feel like I go in unprepared, and it'll come off great. It's just amazing."