Barnabas Connection Returns this Fall: Renewed St. John's ministry partners with Knox Middle and the Center for Faith and Arts
By Susan Shinn Turner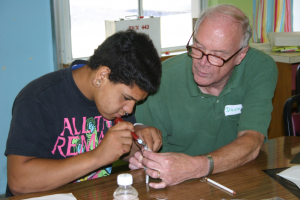 After a year's respite, the Barnabas Connection program will return with a new director.
Barnabas Connection began in 2008 as a ministry to at-risk students at Knox Middle School. The program was the brainchild of the late Shirley Ritchie, and her legacy will continue, says her daughter, Celia Jarrett. "We needed time to step back and re-group."
In re-imaging the program, Celia visited Andi Cantrell at the Center for Faith and the Arts to get some new ideas and inspiration. "They were actually looking for a venue for their artists to work in the community. It's a really good match. We'll supply the structure, and they'll supply the artists. That was exactly what we needed."
Celia assembled an executive committee to restructure the Barnabas Connection: Pastor Rhodes, Wayne Nelson, Kai Thurow, Karen South Jones and Sandy Buechler.
"To move forward, we needed three things," Celia says. "We needed money, we needed a director, and we needed more intentional training for our volunteers."
Celia used money Shirley had left and also received funds from the Benevolent Foundation and from St. John's. The committee wrote a job description for a director and hired Nancy Gaines, a local attorney and artist, as director.
Volunteers for Barnabas, Celia says, are folks who can be consistent in the lives of at-risk children and care about them. "And be prepared to have fun," Celia adds.
Kay Wilson recently joined the program. "I enjoyed the time I was there," says Kay, who taught for 19 years at Knox and served for another 13 years at Corriher-Lipe Middle School as assistant principal. "It was fun getting back into education. Barnabas gives these children a chance to receive extra attention. It makes them feel special and sets them apart a little bit. It really does mean something to these children."
The executive committee has expanded training for volunteers, Celia notes. "Volunteers need to be prepared for the situations these kids come from. We're going to do a lot with poverty training, helping volunteers understand the trauma of being raised in poverty. "
Celia says that the training will be available for any church volunteers who work with at-risk youth, and those who want to better understand the consequences of poverty.
The group has always had devotion time, but will now be more intentional in talking about spiritual peacemaking, Celia says. "We want to have a time of sharing and conversation. How do you stay peaceful in a world that's not?"
Barnabas Connection will meet 2:30-5 pm Thursdays beginning Oct. 5. Each week, the students will receive a full meal, and have 30 minutes to do homework before diving into an hour of art instruction.
Wayne Nelson and Dave Roof are longtime volunteers. "Dave is tireless," Celia says. "He is so devoted to the kids at Knox. And Wayne is so good with the kids. He's such a gentle soul."
Celia says she's looking forward to the new year. "We have been in a time of abiding," she says. "We needed the time to step back, rethink and re-energize."
She also looks forward to receiving new volunteers.  "We need lighthearted people who want to have a good time," she says. "At the very least, we are two hours of light to these children. For two hours, the world is not so tragic."
To volunteer for Barnabas Connection, please contact the church office.