Farewell, Pastor Danielle!
By Susan Shinn Turner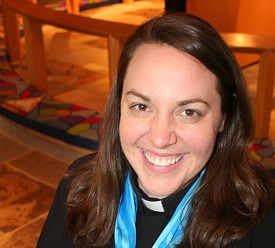 When Pastor Danielle DeNise came to St. John's, Matt Woolly was a confirmand. In July, she went to Lutheridge with the latest group of confirmands, and Matt, a rising sophomore at N.C. State, served as one of their counselors.
"That's the scope of time I've been here," Pastor Danielle says of her 5½-year tenure here, first as youth minister and then as pastor for discipleship.
When she arrived, she was a single gal.
"I was not even 30!" Pastor Danielle says, laughing. Now she's wife to Michael and mom to Moses, 7 months old.
She left July 30 to become one of the directors of evangelical missions for the ELCA, deployed to North Carolina. She'll work out of the N.C. Synod headquarters.
"It's been a journey," she says. "St. John's has been a place that has made space for each new season in my life. That's been a pure joy. It has shaped me in a way that I know I'll be able to have a strong voice in my new call. I know what it looks like to advance the kingdom. I love Jesus more because of this place."
Ironically, Michael works for the Synod, as director of finance and administration. Chuckling again, Danielle says she asked for the office farthest away from his — even though it's a small building.
"He's gotten very Lutheran," Danielle says of Michael, who grew up Baptist.
Danielle says that her new call very well aligned with her gifts, so much so that she feels a bit like Pastor Rhodes.
"I feel like an extension of Pastor Rhodes, because of the way I've been trained at St. John's," she says. "This is a move that just made sense for our family."
She adds, "We're so thankful that we can remain at St. John's, and that Moses will continue to attend the Child   Development Center. Moses is a part of this church family and St. John's will continue to be our church family during this new season of our lives."
Pastor Danielle says she's been part of a "remarkable team," and wishes the next pastor well.
"You will think bigger than you ever thought," she advises. "You will not think about surviving, you will think about how the kingdom can be advanced."